12.12.2016
Large Format Tiles - Trend or Fad?

Are Large Format Tiles the Next "Big Thing"
Large format thin porcelain tiles have been in production  for over 10 years but it is only in the last year or so that they have gained popular acceptance and judging by Cersaie ( The Italian Tile Fair) they are going to be the dominant trend over the next number of years. 
Why Has it taken 10 years for Them to Become Popular?
Here at Italian Tile and Stone we first began supplying large format 3000x1000 thin porcelain tiles in 2006 with the fitout of a North Dublin Pub. The result was very impressive and we expected it would be the beginning of a noticeable shift to the new type of tiles but it wasn't - we have since identified a number of reasons of why that was 
Resistance from Tiling Contractors to the new material
Thinness of the first materials meant they were very brittle and prone to breaking when handled prior to fixing - This has been remedied - initially by manufacturers applying a resin back to the 3mm material bringing it up to 3.5mm, but the modern versions are generally between 5.5 and 7mm
Lack of Variety - Digital Technology had not yet been introduced at that stage meaning the early versions were mainly quite plain monocolour offerings whereas now any stone or wood can be replicated more or less perfectly and the results can be stunning over larger surfaces.
Number of Producers: For the first 5 years the technology was licensed to only four producers world wide. Nowadays most, if not all good manufacturers are producing large format slabs
Price: As the first manufactures had to pay large licensing fees for the technology this was reflected in the price. While still a premium product prices have fallen by 35-40% in the last 5 years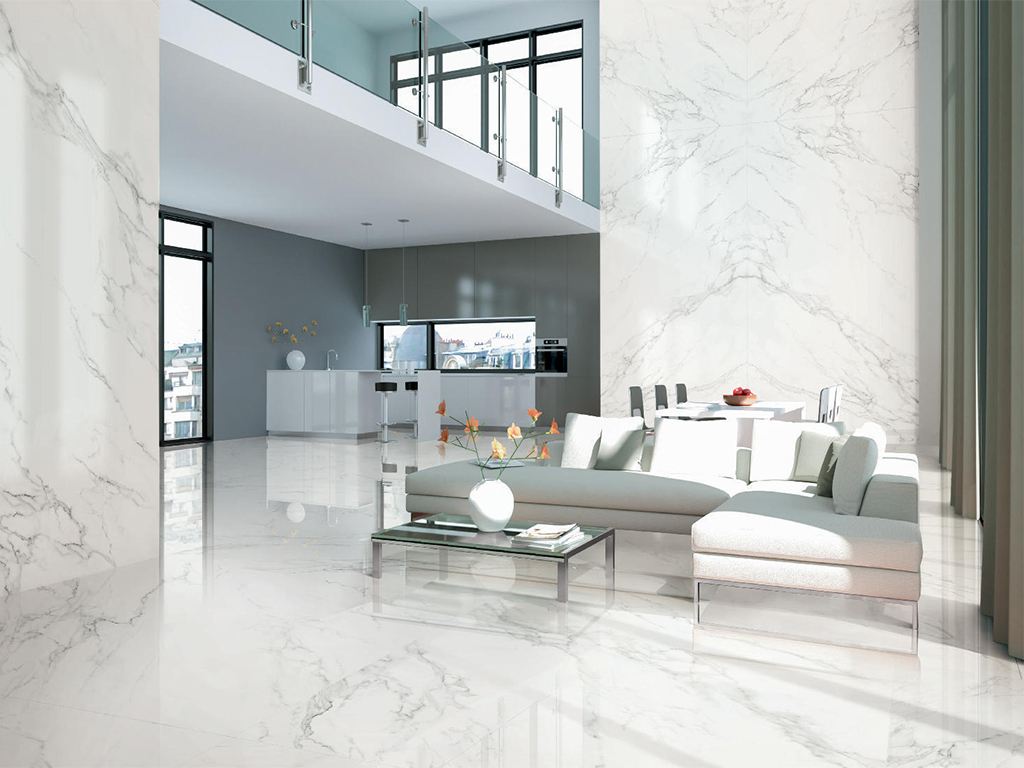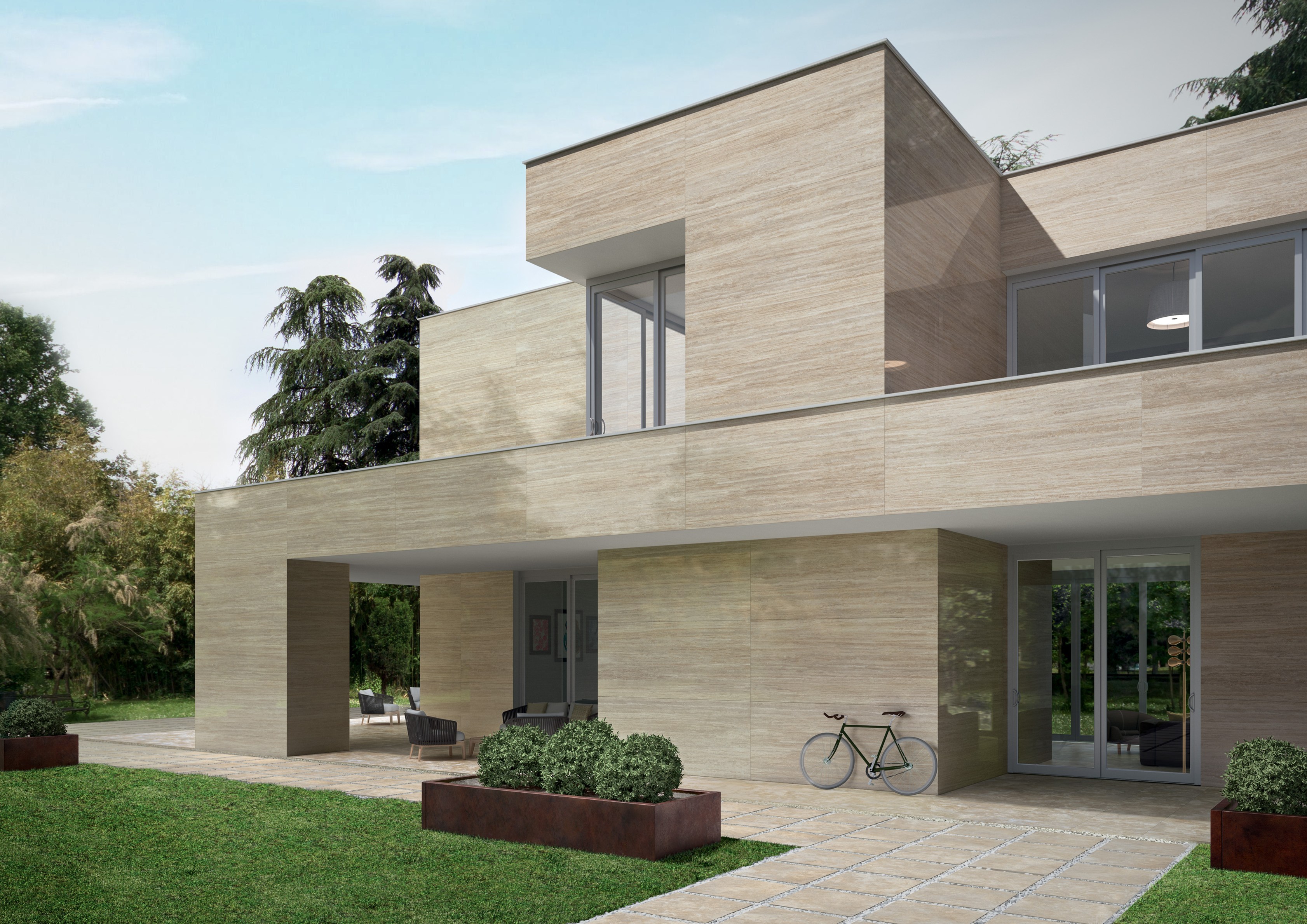 Pros and Cons of Large Format Thin Porcelain Slabs
Pros
EASY
To fix: lightweight, planar, dimensions
To drill: decreased thickness
To cut: simple as cutting glass
To clean: no problem
FLEXIBLE – SUITABLE FOR EVERY SITUATION
Covers multiple needs and projects: floors, walls, curved surfaces, worktops, interior design applications
 A GREAT CHOICE FOR RETROFITTING AND RENOVATION
 ideal for the renovation of floors and walls
The thin slab may be tiled  to the old surface, thus avoiding the uplifting and disposal of rubble
Installation times are dramatically reduced; existing doors need not to be cut of filed.
GREAT ALTERNATIVE TO NATURAL STONE
Lightweight and easier to fix - particularly for facades
Not affected by Sun or Weathering/requires no ongoing maintenance
AESTETHICS
Thanks to the large dimension slabs a visual impact of unique beauty and superior to the traditional ceramic/porcelain can be achieved
LARGES SURFACES
Thanks to the reduced thickness it is easy to fix ( For an Experienced Contractor) Allows great precision and continuity in the floor. Reduces joints and subsequently reduces maintenance and sanitation of public space issues
MATCHABLE
Will perfectly match traditional porcelain  material - Most manufacturers will offer their extra large format material in more traditional sizes also allowing them to be mixed and matched according to design and budget
CUSTOM MADE PROJECTS
The large dimension makes large format porcelain  suitable to be cut to every size required
SPECIFIC USE: THE LARGE SIZE LINKED TO EXTREME LIGHT WEIGHT ALLOWS USAGE FOR
AN ECOLOGICAL CHOICE
Strong decrease in raw materials, water and energy consumption, as well as polluting and CO2 emissions during firing.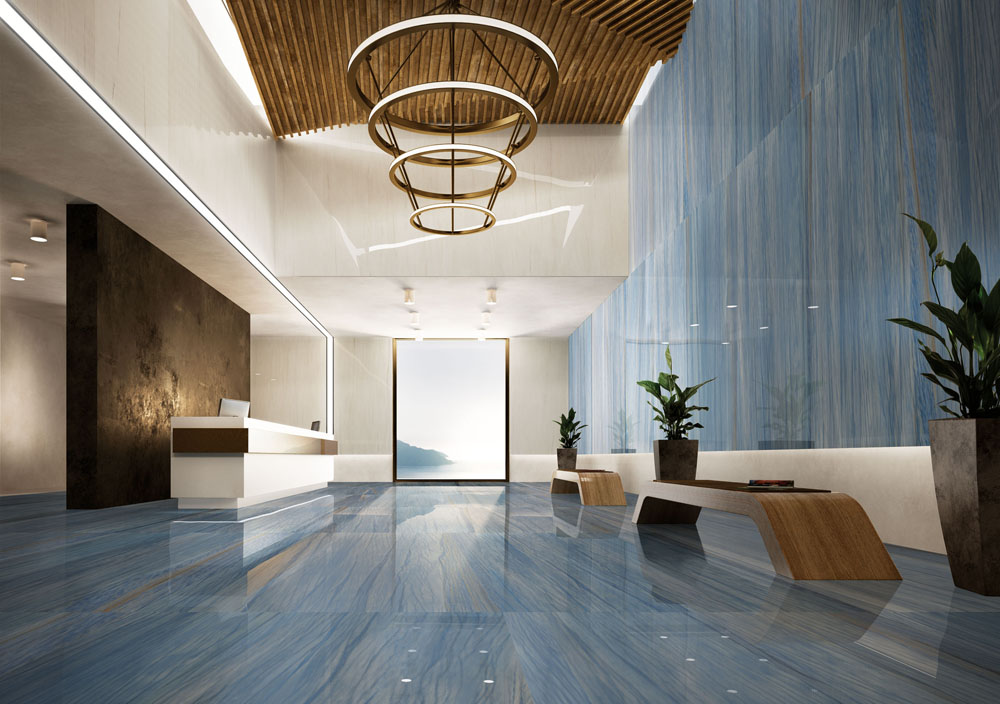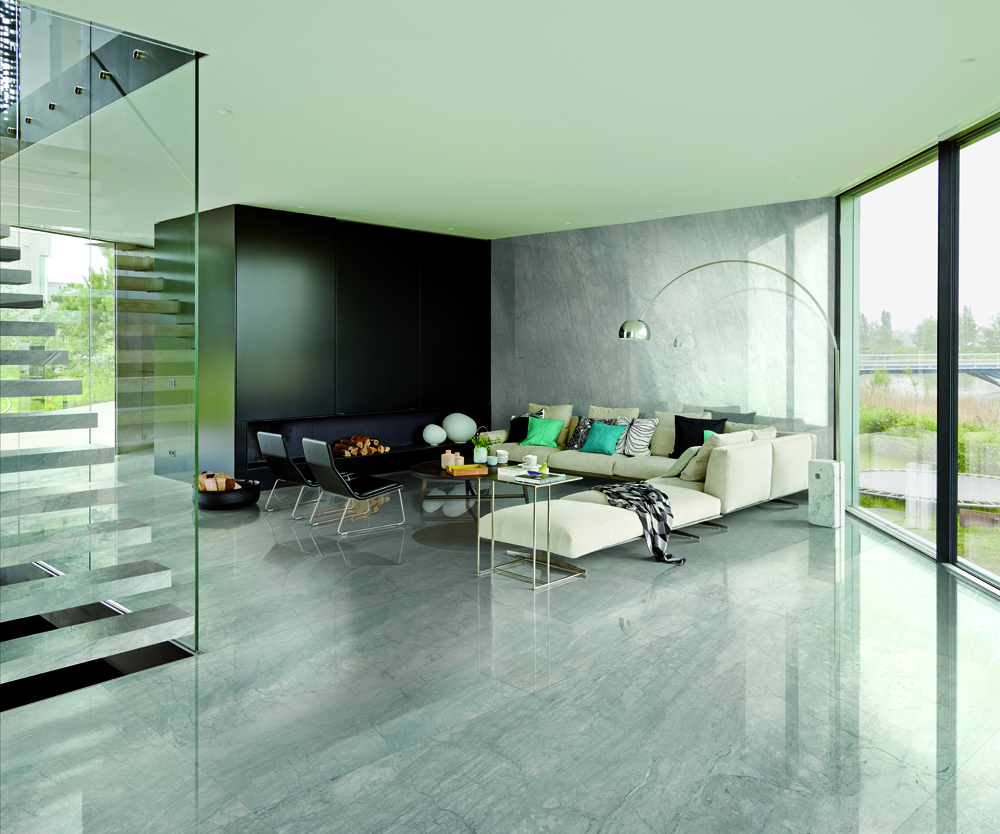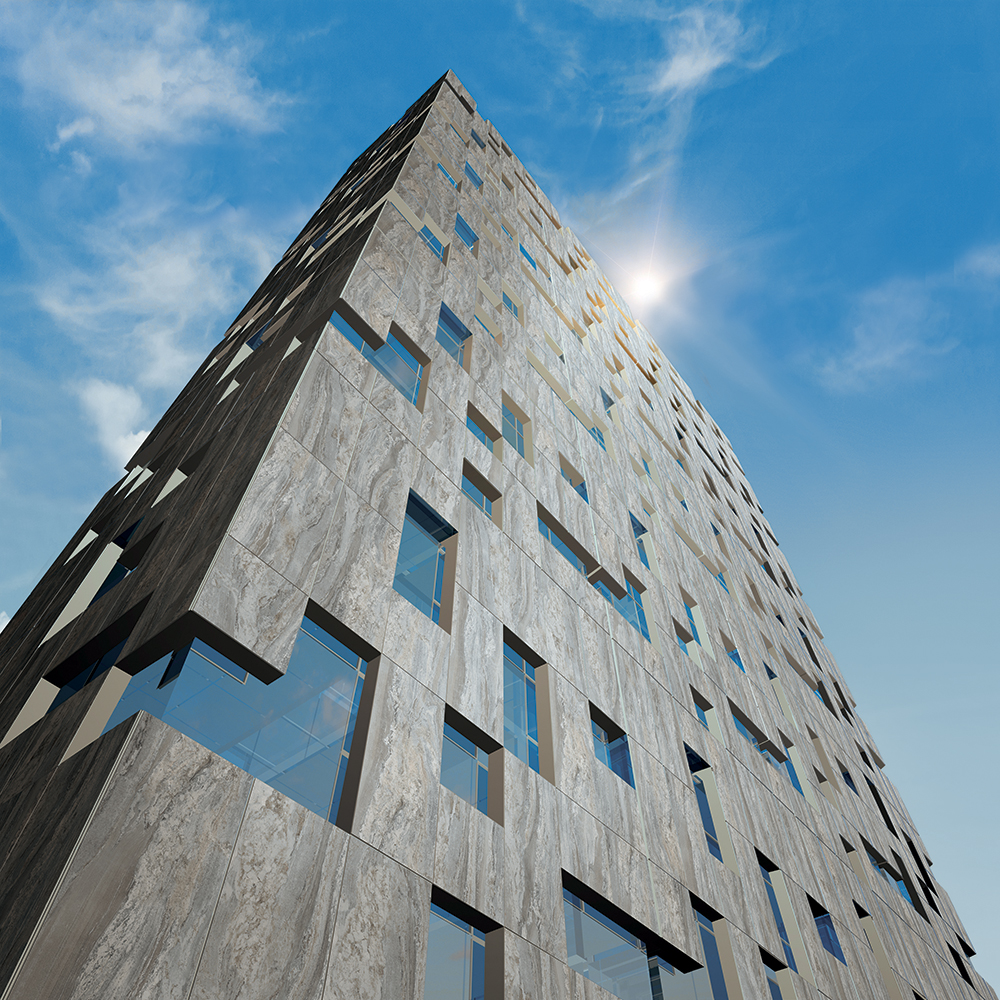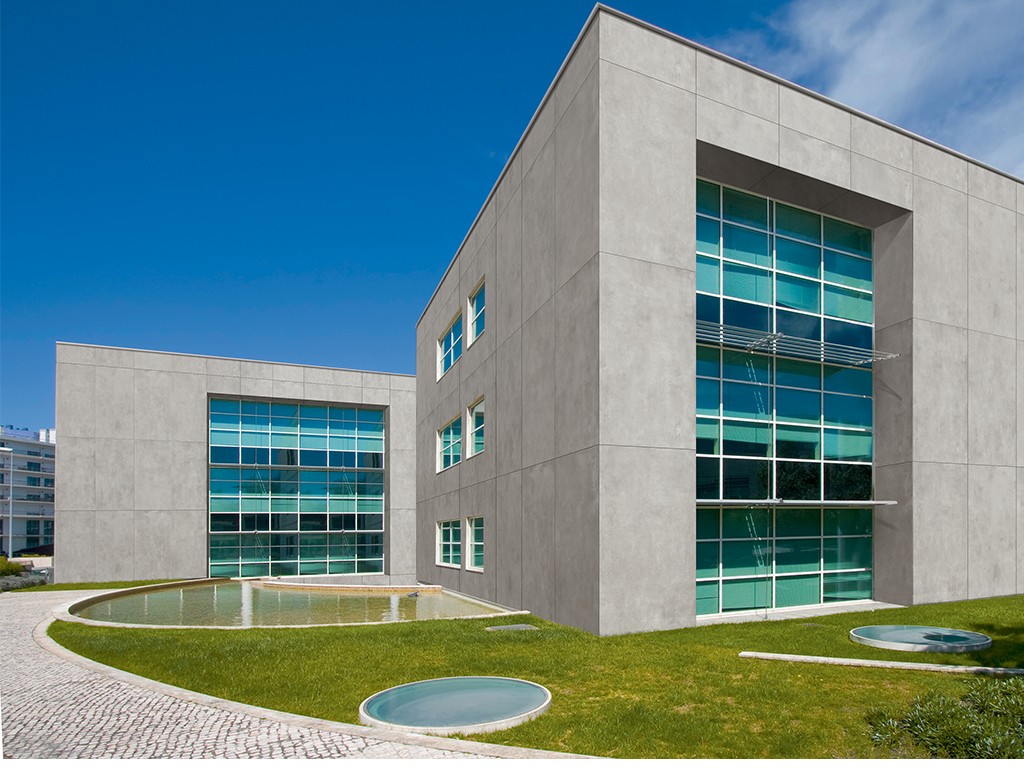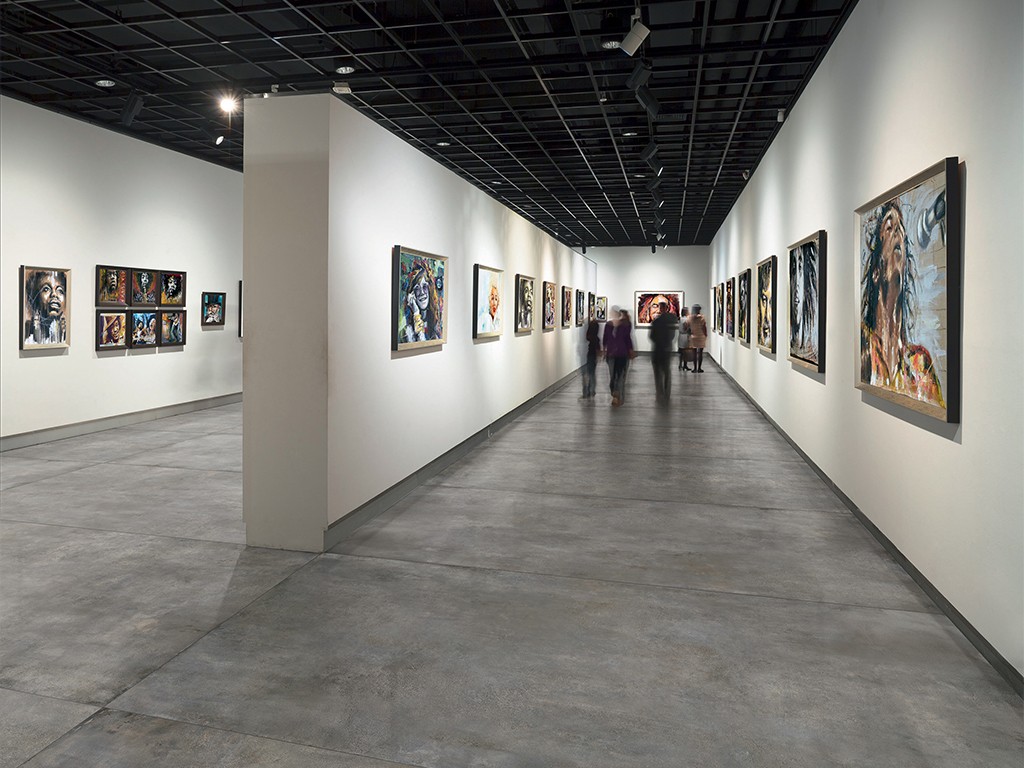 Cons
While having come down in price significantly - they are more expensive than standard size tiles - although vastly less so when compared to natural stone
It is necessary to use a professional tiling contractor for installation
Transport and handling - Although light weight the sheer size of the larges slabs( At over 5 sq metres per slab) means they require at least two people to lift.
All in all we feel that large format tiles will feature heavily in both domestic and commercial projects in Ireland over the coming months. You can browse our range of large format porcelain tiles here. Architects and designers please register on our Architectural site to discover additional  ranges not available in store